Bill Spence has been a musician for over 60 years, playing banjo, guitar, Autoharp and the instrument he is best known for today, the hammered dulcimer. In his high school days he formed a "Skiffle" band in the style of England's Lonnie Donegan, playing for community organizations and school events. He took up his interest in hammered dulcimer in 1969 when he first met Howie Mitchell at the Fox Hollow Festival in Petersburg, NY.

Home
Recordings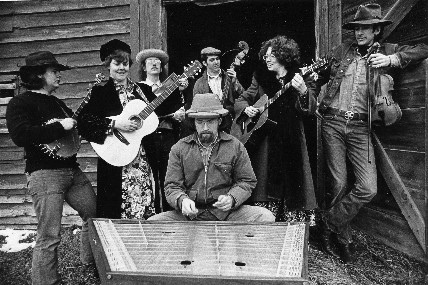 This is the original Pick'n and Sing'n Gather'n stringband which was the genesis of Fennig's All-Stars. Left to right: John Pedersen, Joan Pelton, Skip Evans, Bill Spence, Joe Williams, Marie Brate, and Tom McCreesh. Photo by Al Napper
In 1970 he formed a string band named Fennig's All-Star String Band with musicians living in the Albany, New York area brought together by a folk music organization known as "The Pick'n' and Sing'n' Gather'n'". For over ten years Bill conducted the monthly sings which were an integral part of each Gather'n' meeting. During the next few years at the Fox Hollow Festival in Petersburgh, New York he met and exchanged playing techniques with Howie Mitchell, Malcolm Dalglish, Walt Michael, Jay Round and John McCutcheon, among others.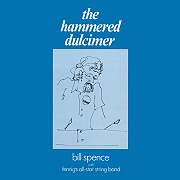 In 1973 The Hammered Dulcimer with Bill and Fennig's All-Star String Band was recorded in the Spence family's living room on a 2-track machine. Home-recorded, with liner notes written by Bill, this first recording has sold over 80,000 copies. Until that time, there were virtually no recordings of hammered dulcimer music available. This lively "feel good" recording captured the fancy of a new generation of musicians, and became the source of inspiration for hundreds of new-found hammered dulcimer enthusiasts. The original Fennig's All-Stars featured Bill on hammered dulcimer, Tom McCreesh on fiddle, John Pedersen on banjo, and Joan Pelton on piano.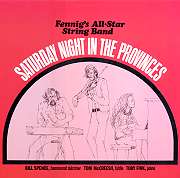 The Hammered Dulcimer marked the beginning of Front Hall Records, which recorded many popular folk artists, including Michael Cooney, Alistair Anderson, Louis Killen, John McCutcheon, John Roberts and Tony Barrand, Rick Lee, Lorraine Lee Hammond, Margaret MacArthur and Walt Michael and Company.
From 1973 through 1978 Bill Spence and Fennig's All-Star String Band toured the East coast, playing concerts and contra dances. Bill's wife, Andy, booked the band far and wide and called the dances. The group has played at all the major folk festivals of the time including Fox Hollow, Mariposa, the Philadelphia Folk Festival, the Old Songs Festival, plus concerts, weddings, parties, and many colleges and community events.
Four more recordings followed. Saturday Night in the Provinces in 1975 featured Tom McCreesh on fiddle with Toby Stover on piano. The Hammered Dulcimer Strikes Again in 1977, Fennigmania in 1981, and The Hammered Dulcimer Returns in 1992 all feature fiddler George Wilson and Toby Stover on piano.
The production of The Hammered Dulcimer was a significant step for Bill. Shortly after its release, Gaspé Reel and Fiddle Head Reel from this recording were heard nationwide as the theme music for Public Television's popular "Crockett's Victory Garden". In addition, the album was proclaimed a "Recording of Special Merit" in Stereo Review magazine. Over the years, 100,000 Fennig's records have been sold.
A 1975 photo with Bill's wife Andy on the left. Our original fiddler Tom McCreesh is in the middle and Toby Stover is on the right.
Photo by Arlen Westbrook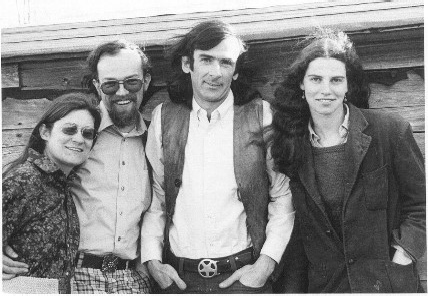 George Wilson, Toby Stover, & Bill Spence at the 2003 Common Ground Festival in Westminster, MD. Photo by Andy Spence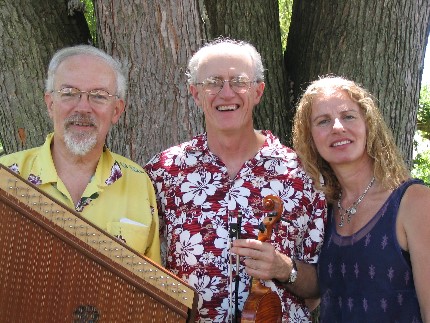 In 1977 Bill and Andy were founding members of a not-for-profit corporation whose mission is to present folk and traditional music and dance to the general public through concerts and group instruction. Today Old Songs, Inc. has enjoyed a 34-year history of bringing acoustic music to the Capital District of New York State.

The February - April 2001 issue of the "Dulcimer Players News" featured an article on Bill's history and playing style. Click the photo and you'll be whisked to the DPN web site.
Bill, Toby and George at a Festival in 1980
Photo by Armen Kachaturian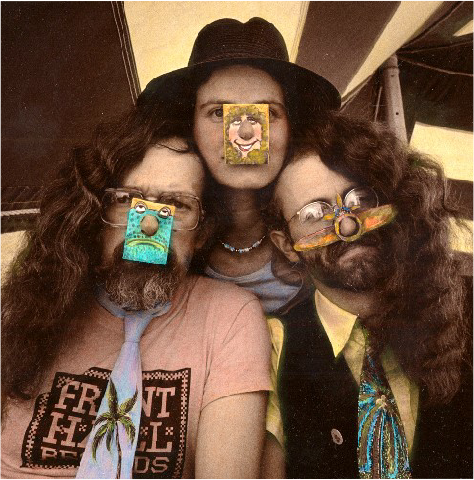 Biographical Information:
Born: August 1940, Iowa City, Iowa. Graduated with a BA in Communications 1962 University of Iowa. Army Security Agency, US Army 1962 - 1965. State University of New York at Albany, Television, Audio and Graphic Design until his retirement in 1998. Bill comes by his interest in Celtic music honestly, having Scottish, Irish and Scandinavian parents and grandparents. He lives in Voorheesville, NY with his wife "Andy" and has one daughter, Hannah, a graduate of Oberlin Conservatory of Music, Oberlin, OH. Thirty-eight years later Fennig's All-Star String Band still plays for contra dances and occasional weddings, festivals, concerts, and community events.