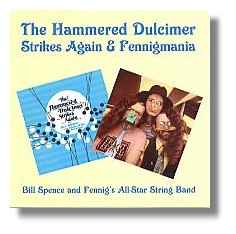 The Hammered Dulcimer Strikes Again
& Fennigmania
Bill Spence with
Fennig's All-Star String Band
FHR 303CD $16.00 PostPaid


30 second samples
An historic compilation of two great LPs originally released in 1977 and 1981. This one features both George Wilson (fiddle, banjo, guitar, bass) and Tom McCreesh on fiddle, with Toby Stover on piano. The music here gives a hint of our shift from Irish and American tunes to the inclusion of French Canadian tunes, thanks to fiddler George and his love for music from north of the border. There's also a couple of nice songs from George and Bill.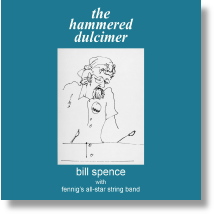 The Hammered Dulcimer
Bill Spence with
Fennig's All-Star String Band
FHR 302CD $16.00 PostPaid



30 second samples
Includes all the instrumental cuts from our original 1973 LP The Hammered Dulcimer, plus 13 from 1975's Saturday Night In The Provinces featuring Tom McCreesh on fiddle, Joan Pelton and Toby Stover on piano, and John Pedersen on banjo. Includes Gaspe Reel, the original theme from PBS TV's popular Crockett's Victory Garden. This is the album which helped in great measure to jump-start the hammered dulcimer craze, and many current players credit this recording as the single most important influence in their decision to play the hammered dulcimer.
42 great country dance tunes. Over 65 minutes of the feel good music folks have been talking about since 1973. 100,000 Sold!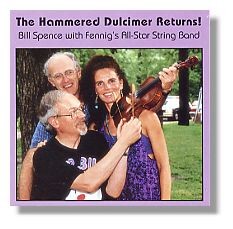 The Hammered Dulcimer Returns!
Bill Spence with
Fennig's All-Star String Band
FHR 041CD $16.00 PostPaid


30 second samples
This 1993 recording is Fennig's newest CD, not because we've stopped playing, it's just that after this all of our lives shifted in one way or another. It's an all instrumental effort with 34 great tunes on hammered dulcimer, fiddle and piano from England, Ireland, Scotland, French Canada, Cape Breton, and our own Northeast.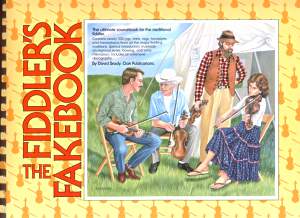 The Fiddler's Fake Book
The ultimate sourcebook for the traditional fiddler.
Contains nearly 500 jigs, reels, rags, hormpipes, and breakdowns from all the major fiddling traditions. Special introductory materials on regional styles, bowing, and ornamentation. Includes an extensive discography.
By David Brody. Oak Publications
This classic book includes 45 tunes from The Fennig's All-Stars CDs, citing many as the definitive version. Until there's a "Fennig's Tune Book" this will have to do.